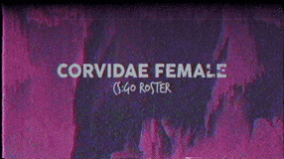 Murder Queens
Corvidae is proud to announce the new Female CS:GO Roster!
Following Corvidae principles and values, jumping back in to support female CS:GO was inevitable. We here at Corvidae will always support female gamers and nothing will get in our way of doing what we can to give them all the opportunities possible.
This new roster consists of several members previously in Corvidae, as well as some fresh faces to the community.
I am really proud to be able to support such a great group of women. Bringing in new faces season on season is also a massive achievement and I have to thank Lozza and Remi for all the hard work in building this team. – Nathan 'Dabura' Joseph
Playing with the girls at Corvidae Female is an exciting opportunity for us to both meet new people as well as improve on our game play, both individually and as a competitive team. I look forward to seeing how we can contribute to the Australian female competitive scene as well as our future improvements and hopefully results. – Remi
The team looks forward to playing in the upcoming 3rd season of the WPGI League where they may showcase their strengths and mark their names in the Australian Counter-strike scene. With this pick up, Corvidae looks to not only help the team grow and succeed as a whole but also as individuals in the scene.
Joining Corvidae was probably one of the best things i've ever done in my life. I have learnt many skills, such as teamwork, communicating, managing things, social skills and many more. I have also made many new lifelong friends and met so many new people. I have experienced so many things while being here and just being apart of this org is amazing! The amount of dedication and effort everyone puts in to make it such a friendly, professional and interesting org is beyond words. I cannot express how much i've learnt and how much I love being here and being apart of this! This has changed my life and I wouldn't take it back. I'm so happy to be apart of the Corvidae Fem team and interact and team up with all these lovely girls and work together as a team and as one. Every single person in this team has dedicated their time and effort to be apart of this team and work together, which I find incredible because of the results that have turned out from it. We have a well functioning team, and couldn't ask for any better team. I think we all are very happy to be here and be apart of the team and we're all excited to see what's going to happen in the future! – Blakwolf13
To stay up to date with the team and their progress make sure you follow their socials as shown above as well as the Corvidae Twitter.