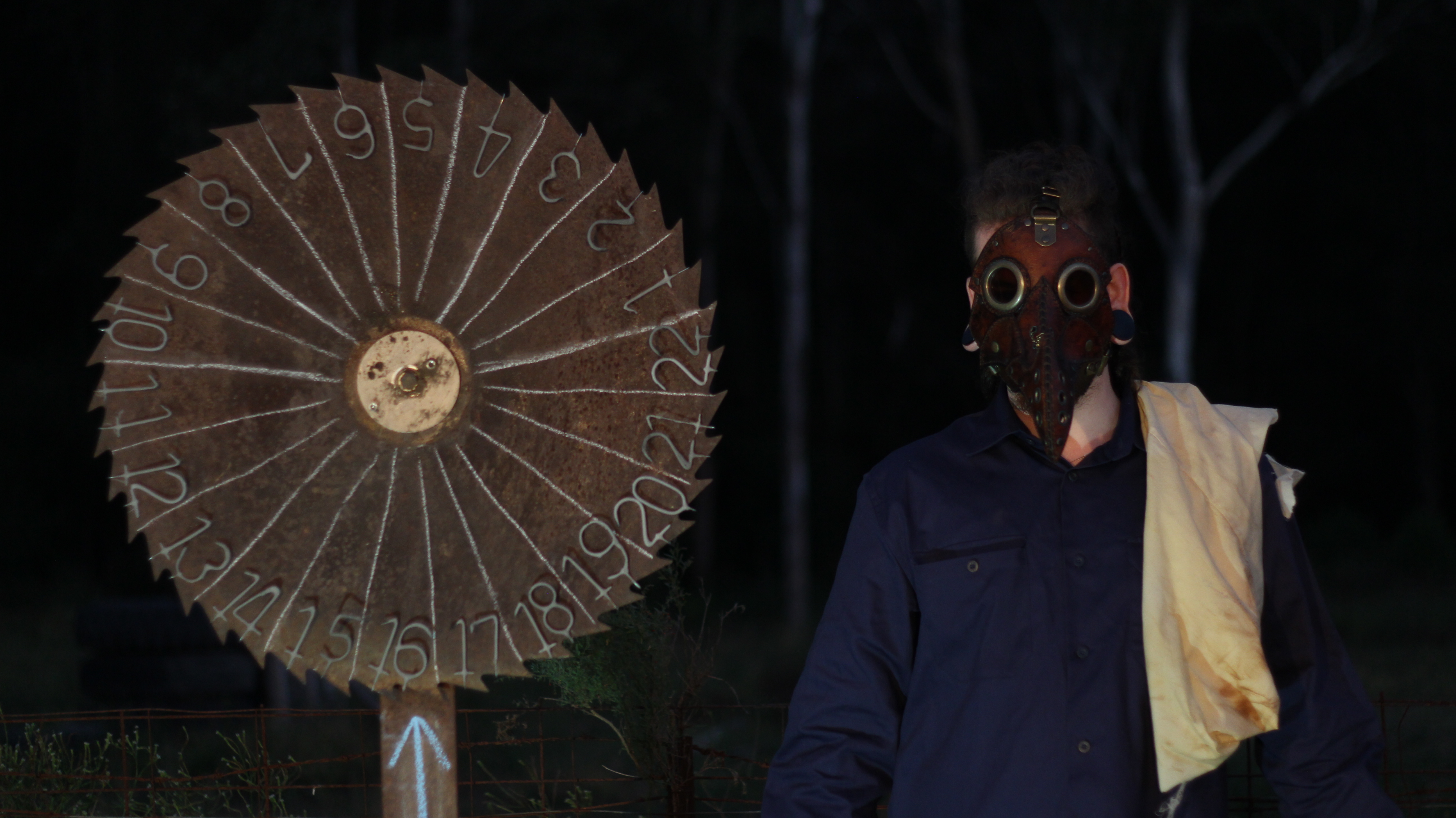 Giveaway Winners!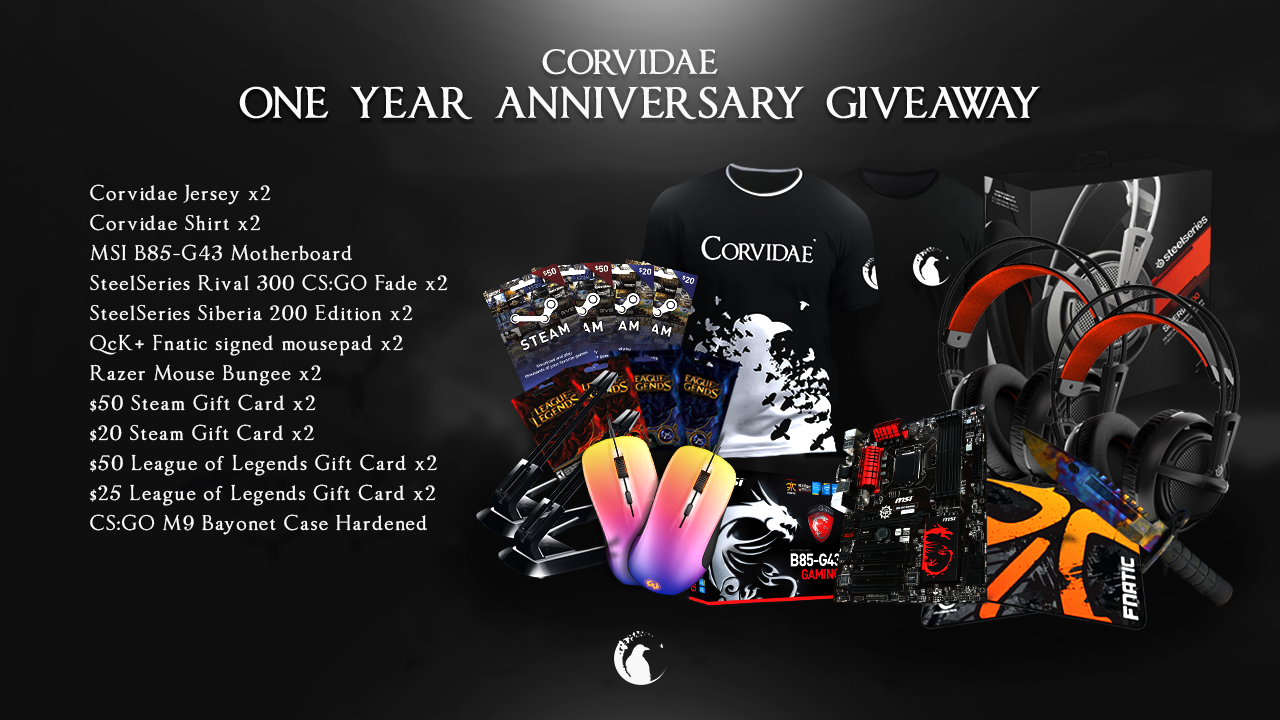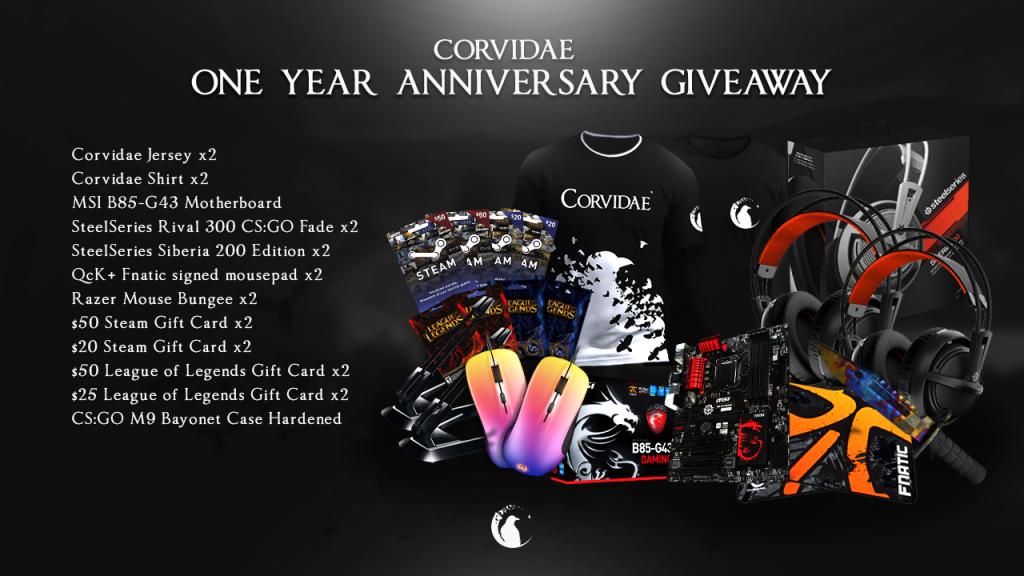 After an extremely successful giveaway to celebrate our one year anniversary, we finally have the winners. With 3824 entries it was an absolutely massive event that saw the entire community get involved. But it isn't over yet. One more piece to the puzzle is here..  THE MURDER WHEEL!
How it works;
Each prize was put into a randomizer and allocated a number. The order in which the winners are drawn is their number.  Once a prize has been won, the number is removed and the line to the right of it will be removed, giving the next number in order a higher chance of winning. This will continue until every prize has been won.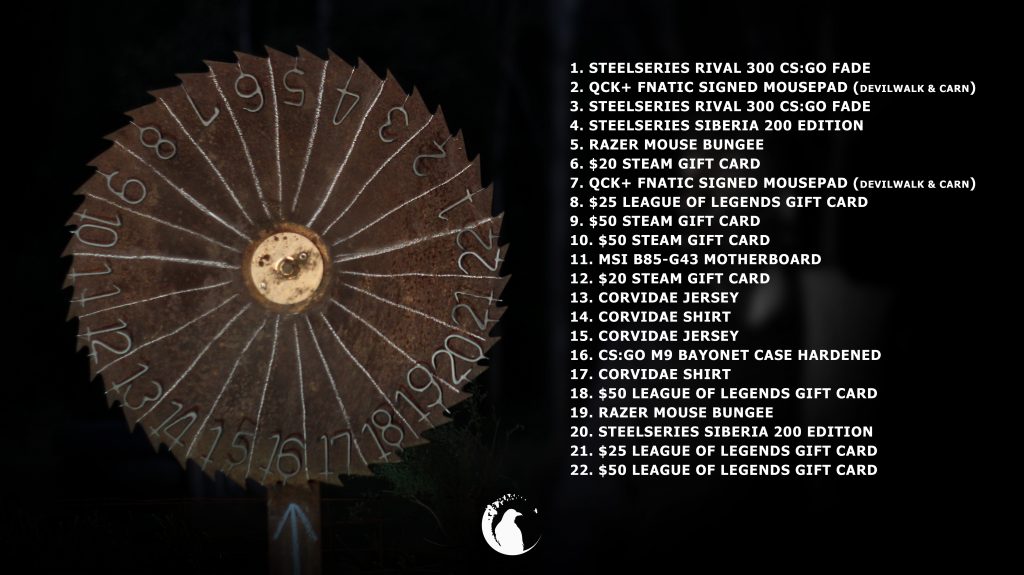 The Murder Wheel is operational and the video will be uploaded to our Youtube channel.
If you are unsure whether you have won or not, just check in on the giveaway page to find out if it was you! Alternatively, you can wait for an email from Corvidae to confirm your win.
The winners are
Spin   Name                              Twitter
1         Anomally                       @anomallyxx
2         Trong Nguyen              @Tron05840270
3         Michael Richardson    @YaBoiBroseidon
4         Nick Flint                        @Garltok
5         Marzy                             @ThatOneMarco
6         Henry Tran                   @smackalong1
7         Matthew Senior           @Mattse123
8         nikxsunga                     @nikxsunga00
9         Liam Devine                 @BennyBennell1
10       Sutton                            @SuttonButt
11       Hayden Tresch             @PRAWLNTV
12       Blake Humphrey         @ShuCSGO
13       Nathan Golding           @aggtankgaming
14       Noody                            @NoodyCSGO
15       Jakeb                              @ManlyCS
16       Stephanie Leung         @BrodieLouisAU
17       Elijha                             @killerswag_boy1
18       nork thom                    @swiftyisamemer
19       SDF                                @ExpertExplosion
20       Tomzen                        @tomzen69
21       strangE                          @kevin_doobs
22       Nick Anderson             @ToastyJaffa
The prize for all those who retweeted the giveaway will be done after the murder wheel prizes are announced. It will also be well worthwhile to watch the Murder Wheel prize video because there will be a prize given to a random person who comments!!
Thank you to everyone who participated in this giveaway! We appreciate each and every one of you and will do more in the future.