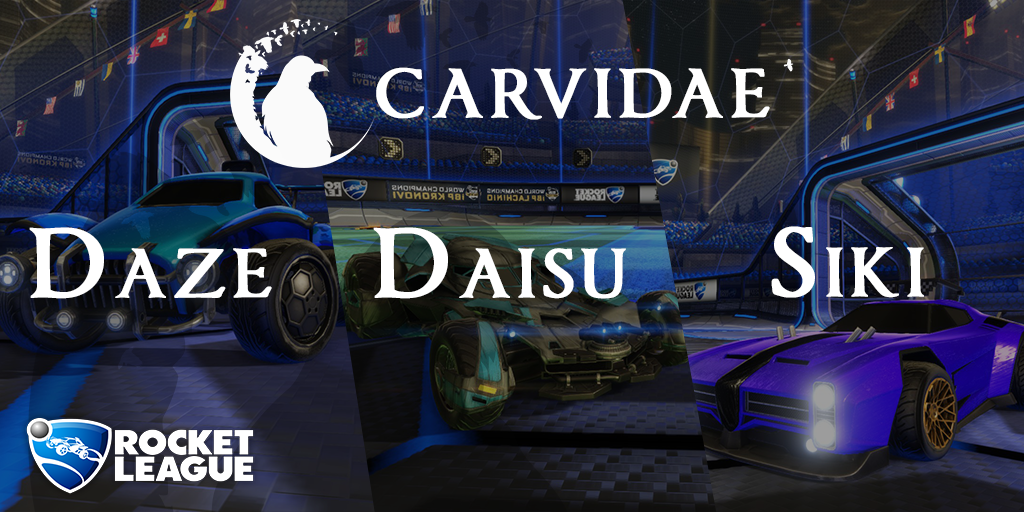 Carvidae is back!
Corvidae reunite with Daze to attempt another assault on the upper echelons of Rocket League! Alongside Daze, are two of the most capable teammates one could ask for in Siki and Daisu. Coaching the boys will be SToRMCLoRD who adds a new dimension and viewpoint to the team. It is our hope that we can facilitate some glory for this team of hard working and professional minded players.
I am really excited to be plaiyng under corvidae as i already have previous experience with them and know they are a great organisation. Also really happy to be playing with Siki and Daisu as they are 2 great players and think that we can definitely push for the top spot in OCE – Daze
Corvidae have wanted to jump back into the Rocket League scene since the disbandment of the previous team but struggled to find the right group of players to represent the brand. This team is still young and has a long way to go but have already started putting up impressive results. On top of this, they are extremely professional both on and off the field, with a strong work ethic and an amazing outlook on how to be a professional.
I'm fairly confident that our roster has capabilities to reach the top, with a sponsor as passionate as Corvidae, i believe we've gained the drive to push ourselves harder than ever. There's no stopping us now – Daisu

Playing with the new Corvidae feels really comfortable, even though we're a new team, it doesn't mean that we're not able to handle the top teams. It's not just about the players in the team all being good, but about the more unpractical stuff such as friendship, and chemistry – Siki
Coaches in Rocket League are a rarity, but Corvidae have been lucky enough to find a coach that is both highly skilled and intelligent. Without a doubt, the team believes this will be a big competitive edge, driving the team to new levels.
I like the teams play style and I feel like it suits how I enjoy to play the game. My career has been shattered from arm injury so now I'm a coach. I want to push these guys as hard as I can. I want to get the potential I see in these guys out to the front of the grid – SToRMCLoRD
Please welcome Corvidae's newest team, show them some love and give them a follow on twitter